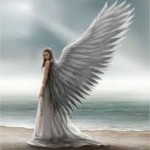 Angel Attunements are offered at Master/Teacher level meaning you are able to pass the attunement on to others as a teacher. As with the Reiki attunements, they come with a complete lineage back to the original channelling.
Attunements will naturally raise your vibrations and teach you ways in which you can enhance your natural connection to the Angels' energies. Depending on the attunement you can learn about the Archangels, your Guardian Angel, Angel Energy Transfer*, Angel hierarchy, how to recognise when the Angels are present, and much more.
An attunement is like offering you a spiritual key to unlock an easier and more powerful connection to their energies. This may trigger a process and as you practice you will develop confidence in calling and feeling your Angels energies.
All attunements include a colour booklet and certificate. I currently offer the following attunements:
ANGEL LIGHT INITIATION
This attunement will connect you to the Archangels, your Guardian Angel and more. You will also learn about Angel Energy Transfer*. This Initiation actually consists of many different attunements to different energies. The session also includes a guided Angel & Chakra meditation which is also detailed in the manual for future use. The manual looks at Angel hierarchy, energy transfer, calling for and recognising Angelic help and much more.
This is the attunement I offer for my Angel Workshops.
COST = £50
LENGTH OF SESSION = approx. 1 hour 30 minutes – 2 hours
COLOURS OF ANGELS
This attunement will offer you an easy method to contact your Angels. It will give you the key to calling specific Archangels for specific purposes just by imagining a particular colour.
COST = £35
LENGTH OF SESSION = approx. 45 minutes
SILVER VIOLET FLAME
This attunement will connect you to St Germain and enable you to use his energies for protection and clearing negativity.
COST = £25
LENGTH OF SESSION = approx. 30 minutes
ANGEL WORKSHOPS
Future workshops including the Angel Light Initiation will be listed here. If you would like to express an interest please email me. I will run workshops as and when I get enough numbers and these will generally be run at my therapy room in Caerphilly.
COST OF FULL DAY WORKSHOP
(including Angel Light Initiation, manual and certificate) = £75 (price can depend on numbers)
*I have removed references to Heal, Healing and Healer due to restrictions in EU Regulations.