My name is Danielle Bryant (Dani) and I am a Holistic Therapist, Yoga Teacher, Reiki Master/Teacher and Author based near Caerphilly in South Wales. I am also co-founder and director of Shop Holistic Ltd (hence my nickname "Holistic Dani").

I am qualified in Nutritional Therapy (including a specialist diploma in Nutrition for Cancer Protection and Longevity), Kinesiology, Reflexology and Homeopathy, and I also have a diploma in Holistic Diagnosis Skills. I specialise in Body Detox and Natural Health. I am currently a student of Massage and Advanced Aromatherapy.
My Services
I offer all my therapy skills as part of a combined Full Natural Health Consultation where I assess your needs on a holistic basis, along with periodic 'MOT' checks as required. After addressing any nutritional deficiencies, toxicities and imbalances within the body using kinesiology, if it is still required I will assess what therapies would be most effective for you whether this be physical, emotional or spiritual. I also offer Reiki, stand-alone therapies, readings and tuition. Please see the tabs above for further information!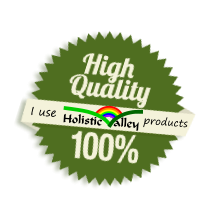 I only use top quality, trusted products, organic as much as possible. Most of the lotions and oils I use are hand-made by myself and they are all SLS, SLES & Paraben free. Additionally, I will never use products that are tested on animals!
Health Freedom Activist
As well as an author, I am a health freedom and truth activist. I feel passionate about people's freedom of choice especially when it comes to their health and rights. In the menu on the right you will find a few articles I have written, some of which have been published in the international health magazine "Health Freedom News".
Unfortunately, I have recently had to strip a lot of articles from my website due to attracting unwanted attention and harassment from the authorities and media. 
Thank you for visiting my website. I hope you enjoy browsing, and learn something from it that helps you!
Dani x