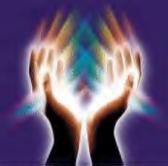 What is an Attunement?
An attunement is a kind of ritual whereby your Chakras (or spiritual energy centres) are balanced and you are connected to the Reiki source. This connection will be permanent and will allow you to channel Reiki Energy to yourself and others. It is a little like giving you a key to unlock a door.
The following are levels of the traditional Usui Reiki.
Reiki I is the first level of Reiki. It will enable you to channel Reiki energy to yourself and friends and family. You are unable to practice Reiki professionally at this point.

Reiki II is the second level of Reiki. At this level you will be attuned to work with symbols which will enable you to channel Reiki energy to the past, present and future, over distance and particularly into the emotional body. Along with appropriate insurance, you are able to practice professionally at this level.

Reiki Master/Teacher is the third level of Reiki. This level enables you to pass on all attunements, including the master/teacher level, to others. You are attuned to an additional symbol in which to be able to do this.
NOTE: Some teachers will tell you Master/Teacher is the fourth level, and there is an interim 3rd level which is Master. This is not so. It is exactly the same attunement that is used – only the knowledge of being able to pass the attunements on is held back at the so-called third level! In my experience this is for one of two reasons. Either to make more money, or to protect the teacher catchment area. Both reasons I disagree with as I believe Reiki needs to be passed around with love and light and without ego or attachement. Also I believe that people need to find their own teacher, the right one for them, and the more teachers that are about the more choice there is!
What will happen in my Attunement?
My in-person Reiki attunements include a full Reiki session for yourself, training and discussion on the manual. They usually last about 1 hour-5 hours, depending on the branch of Reiki and level of attunement. The actual attunement only lasts for about 5-15 minutes, again depending on the level and type of Reiki. You sit quietly for this with your eyes closed while I perform the attunement on you. The reason the sessions are a lot longer is because of the training I will give you and the full Reiki session that helps your self-preparation process. Once you are attuned you will perform your first session on me to encourage the Reiki flow and to give you confidence to perform yourself. During this session I will guide you and you will be able to ask as many questions as you like (as it is intended for your benefit and not mine!)!

Distant attunements will last for about 30 minutes. You need to sit still, quiet and undisturbed for this time. You may feel warmth, see colours or visions, or simply deep relaxation. You will instinctively know when the session is over.
You will receive a manual and certificate by email for you to print. An embossed colour certficate is available by post for £5 extra, or a printed A5 Reiki booklet and certificate for £7.50 extra.
Reiki Weekend Courses are sometimes held at my therapy room in Caerphilly, South Wales for small groups of 2-4, or at a local community centre, village hall or other venue for larger groups of up to 10.  The weekend is run 10am-3pm Saturday and Sunday and includes a healthy light snacks and refreshments. The training will include channeling the Reiki energy, scanning the body, reading the chakras, how to give a Reiki session, the attunement, lots of practice giving and receiving Reiki Energy, and maybe more depending on the level and style of Reiki. Only 1 level of Reiki is covered per weekend, this is very important to prevent crisis, chakra damage/burnout and other possible negative effects from receiving too much too soon without the essential self-preparation and cleansing processes between each level. Attunements are powerful procedures that should not be taken lightly! Weekends are from £120 per person and include a colour manual and certificate. More information can be found in the relevant page.
My Approach to Reiki Tuition
I have a relaxed, simple and friendly approach to the tuition I give. I encourage you to act upon your own guidance and intuition and believe this is an important part of Reiki and helping you to find yourself as a Reiki practitioner. This fairly 'hands-off' approach is how I learnt Reiki finding your own unique way of doing it and therefore developing yourself as more than 'just another Reiki practitioner'! Reiki is a spiritual, creative practice and too many rules and 'how-to's can make it become too mechanical and parrot fashion in my opinion. Therefore my manuals are concise, while still giving you all the essential information you need to start you off on your journey.
I am available to my students at any time by email for questions and support and run a monthly Reiki share group as well were students can meet and share their experiences and offer each other Reiki.
Important Things to Consider
I am not associated or affiliated with any professional Reiki-specific governing bodies or organisations.
My attunements were given to me distantly by a teacher who received his initiations in Japan and was attuned to many different Reiki styles.
While my courses are not officially accredited, my training and attunements will still provide you with the ability to practice professionally and obtain liability insurance, though some insurers will exclude non-accredited courses.
While my teacher was a very good and supportive teacher with beautiful energies, unfortunately many Reiki organisations bundle all distant attunements together (along with many impersonal courses available with attunements by DVD, online and so forth), and exclude anyone who has any distantly-attuned teachers in their lineage. Therefore, if your aim is to become registered with a specific organisation, it is important to check their criteria. This is solely your responsibility, and I cannot be held responsible for your inability to join a particular association or organisation.
There are some organisations that accept all Reiki including distant attunees, though it is not necessary to join any to practice professionally.
More information is on the different approaches to Reiki Tuition by clicking HERE
Information on Traditional Reiki (Usui Shiki Reiki Ryoho) is HERE