Please ensure you also read the page About Reiki Attunements for information on my tuition and attunements.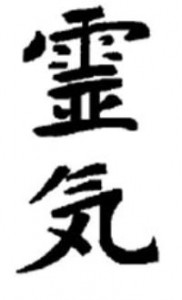 Usui Shiki Reiki Ryoho is the most common and traditional form of Reiki used in the West. Many other styles of Reiki require attunement to Usui Reiki, many to Master level. Usui Reiki is so-called as it was re-discovered by Dr Usui, a Christian teacher who went in search of an answer to his student's many questions about how Jesus performed his healing.
Private in-person Attunements
My in-person Reiki attunements include a full Reiki session, discussion on the manual, and training on how to give a Reiki session including how to prepare yourself and the therapy room. They usually last about 5 hours.
Level 1 (shoden) – £120
Level 2 (Okuden) – £175 (returning) or £200 (new – previous certification to level I must be shown)
Master/Teacher Level (Shinpiden) – £250 (returning) or £300 (new – previous certification to level II must be shown)
It is possible for up to 3 people to share the attunement session, there is a discount offered for shared sessions, so please contact me for a quotation if you wish to come along with a friend or relative! If the sessions is shared, the length of time required will lengthen as each will receive a Reiki session while the other/s watch for guidance on giving a session.
* I require a non-refundable deposit of at least £20 to secure an attunement booking (after the appointment has been confirmed). This can be paid by cash to Shop Holistic, or by card at this link:  CLICK HERE
I am happy to transfer the deposit to a new booking if you need to postpone for a genuine reason and give me at least a weeks' notice.
If you want to spread the cost, please contact me to arrange.
Distant Attunements
Distant attunements will last for about 30 minutes. You need to sit still, quiet and undisturbed for this time. You will receive a manual and certificate by email for you to print. Included is an embossed colour certficate and a printed A5 Reiki booklet sent by post.
Level 1 (Shoden) – £40
Level 2 (Okuden) – £80 (returning) £100 (new)
Master/Teacher Level (Shinpiden) – £150 (returning) £175 (new)
Payments by card can be made at this link after confirmation of your appointment: CLICK HERE
Reiki Workshops/Courses 
I run Reiki Tuition Workshops/Courses at my therapy room in Caerphilly, South Wales for small groups of 2-4, or at a local community centre, village hall or other venue for larger groups of up to 10.  I can run single day or weekend courses.
Single day courses are run 9.30am – 6pm and the weekend courses are run 10am – 3pm Saturday and Sunday (sometimes extended to 4pm for larger groups). The training will include preparing the room, protection, scanning the body, the aura and chakras, Reiki from myself, the attunement, lots of practice giving and receiving Reiki, and maybe more depending on the level and style of Reiki. These topics can go into a lot more detail and practice during the weekend course as we have more time.
Only 1 level of Reiki is covered per course. This is very important to prevent crisis, chakra damage/burnout and other possible negative effects from receiving too much too soon without the essential self-healing and cleansing processes between each level. Attunements are powerful procedures that should not be taken lightly!
Prices include a colour manual and certificate, light healthy snacks and refreshments.
Level 1 (Shoden) – £100
Level 2 (Okuden) – £150 (returning) £180 (new)
Master/Teacher Level (Shinpiden) – £250 (returning) £300 (new)
Please register your interest by emailing or calling me, if you are interested in attending a course!