This service and is offered primarily by Jitsi / Zoom (online meeting).
My husband Lloyd and I are excited to offer support sessions based on German New Medicine (also known as Germanische Heilkunde). This is ground-breaking science into the true nature of disease and the irrefutable link between unexpected trauma (known as conflict shock) and disease. For more information please view the show we recorded introducing GNM here: Richplanet TV and you may also wish to look at my videos and information on my blog website here: New to GNM/GHK? Where to Start!
These sessions are ideal for finding conflicts related to any symptoms or conditions you are currently facing, and offering advice on what you can do to resolve conflicts and move forward in your healing. As we have both carried out over 15 years of research into nutrition, detox, supplements and health products, we can guide you in making wise choices that will be supportive to your body and the healing process. We work together compiling a timeline of events if necessary and find out where you are in the biological program so we can most efficiently advise you. We have also found it beneficial to include surrogate muscle testing when it is appropriate to reveal any issues that may be holding you back from healing. Whether these be of an nutritional, emotional or energetic nature, we can either correct the imbalance at the time or find a suitable remedy. We can also show you some self help tools such as EFT and muscle testing if we feel that this would be beneficial for supporting your healing.
Sessions are also ideal if you have been learning or researching GNM/GHK for yourself and have some questions about the Biological Laws in general, or would like to discuss practising your therapy with the principles of the Biological Laws. You may also wish to join the GNM UK Community on Facebook (click HERE) and attend one of our events listed in the events section.
What we can offer: As a nutritional therapist and kinesiologist, I am able to bring these modalities into the session using GNM/GHK principles. Lloyd is currently studying for a diploma in Life Coaching and therefore the advice may be complemented by life coaching tools.
Cost: Sessions are charged at £60 for an hour, plus £10 per 20mins thereafter, offering you flexibility. This includes a follow-up email containing any links for further info on what we have discussed. If you would like a written summary report of the session with recommendations, I can offer this at an extra £20. You can state a time limit at the time of booking or at the start of your session if you wish. We will book an hour by default unless a different time is requested. Additional time can be added if our diaries allow, and we can also book shorter sessions if you wish.
Card payment is taken in advance through a checkout link. Please contact me for availability or use the onine booking system to book an appointment, and you will receive payment details when you have booked along with a link to the scheduled meeting on Zoom. If you book online, please note that your appointment is provisional until confirmed as I need to check Lloyd's diary too!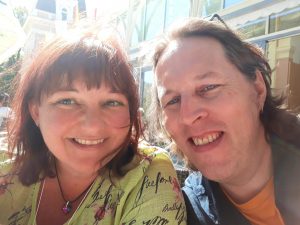 Lloyd and I have both studied GNM together, and both attended the International Training Conference. We have decided to offer these sessions together as we find we work well together, as well as being able to offer surrogate muscle testing if required.
PLEASE NOTE: While there is no official training for GNM, therapy insurance is not available purely for GNM Therapy so your session needs to include an insurable therapy or modality. However, the GNM sessions will always be primarily focused upon GNM.
By requesting an online session you are indicating your agreement to the following disclaimer. We will also verbally read out a disclaimer at the start of your session and ask you to agree. Sessions may be recorded for yours and our protection, and for our further assessment of your case (never shared with anyone).
DISCLAIMER: GNM online sessions are for education and information only. Advice is not intended to be a replacement with that of a medical practitioner. Please do not stop any prescribed medications before speaking to your prescribing health professional. Any decisions made must be your own responsibility based on all the information available to you.