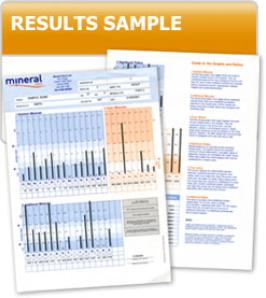 I am able to offer the Hair Mineral Analysis Test service by mail order (UK ONLY) as well as in person.
Unlike other agents who sell similar hair mineral tests and simply pass on the lab reports as they come, my mineral test also includes a full (approximately 12-20-page) report compiled by myself, including supporting nutritional, supplement and detox advice for the re-balancing of the body based upon your results, symptoms and conditions. The report and advice is not aimed at being product based, however any specific products suggested will be based upon thorough research and experience.
My report is mainly aimed at obtaining as much as possible through your food and you can therefore be reassured that this will not lead the way to unrealistic expense of supplements! However, you are likely to need some supplements in the short term, and should you wish to purchase any recommended products, you will receive a coupon code for 10% off up to 3 orders at Shop Holistic.
My report includes: Explanation of Lab Results, Simplified Summary, Dietary Recommendations – based upon metabolic type and thyroid function, protein/carb/fat balance, foods to eat and avoid, finding possible allergies, Recommended Supplements based upon the graphs, Further Supplements based upon conditions, Addressing Conditions and Tendencies, Detoxing Heavy Metals, Medication Overview, Current Symptoms Advice (including information based upon German New Medicine), Emotions and Lifestyle Advice, General Healthy Eating & Nutrition tips and advice for retesting.
More technically-worded doctor and nutritional therapist reports from the laboratory are also sent, and are ideal if you are working with a medical professional. The majority of clients have told me that they are too technically worded and can be confusing by themselves, so I aim for my report to be more thorough in explanations, and a culmination of all the information in one place, including a handy summary.  I am happy to offer on-going support by email should you have any questions about your results.
IN-PERSON CONSULTATION
A full in-person consultation is available which includes kinesiology. I will usually forward your results and report to you so you can go through it and write down any questions. Then at your consultation I will answer any questions you may have and use kinesiology muscle testing to test different products on you to assess which will better suit your needs and find the correct dosage. I will also be able to assess your body's energetic needs and assess whether any complimentary herbs, supplements or therapies may be needed, and assess if other issues are present such as parasites, candida, food sensitivities or other disturbances.
REMOTE TESTING
Using kinesiology methods or dowsing on a single strand of your hair, I will remotely test for more personalised information including specific dosages, potential sensitivities/intolerances and particular supplements. This enables me to tweak the report further by tuning in to your body's needs and intuitively and energetically assess correct dosages of any supplements recommended and the potential of food allergies. This service is included in the price. If you do not want the energetic testing (due to personal or religious beliefs) then there is an option on the information form you are sent to make this known to me. I will then write your report by assessing your levels and information given to me only as I have previously done!
An Additional Remote Testing service which is offered at only £10 extra to cover extra time spent, includes energetic parasite, candida, thyroid and hidden toxicity testing. This can be selected as an option when ordering below.
OPTIONS

Hair Tissue Mineral Analysis Test, full reports by email, plus email support – only £85.00!

Hair Tissue Mineral Analysis Test, full reports by post, plus email support – only £87.50!

Hair Tissue Mineral Analysis Test, full report by post or email, plus email support and Additional Remote Testing – only £95.00!

SILVER PACKAGE: Hair Tissue Mineral Analysis Test & report, plus email support and Full in-person consultation with kinesiology – only £125.00!
This option is ideal if you are travelling a distance as we can do the hair test by post and you will only need to travel to me once.
The consultation will be up to 2 hours (depending on the results) and include a full kinesiology assessment, food sensitivity/parasite/candida checks and kinesiology techniques will be used to further tweak any recommendations made in the report. We will then go through the report when I can answer any questions you have.
OPTION 1 – Order your test and pay here online for the hair test (£85 option), receive a hair test kit by post, select on the information form that you wish to book a consultation and I will contact you to book your consultation I receive the results
OPTION 2 – Order the test by calling into Shop Holistic and pay by cash or card
OPTION 3 – Order a test as an existing client at an appointment with me
Either way you order, you pay for the hair test (£85) at the time of order, and the £40 extra for the consultation at your appointment. If you are ordering your test in person, we are happy to take your hair sample for you by request.
GOLD PACKAGE: 1 x Initial consultation with preliminary checks, 1 x Hair Tissue Mineral Analysis Test & report, plus email support and 1 x Full Consultation once your results are in – only £150.00!
Call or email to book this option. Payment will be paid in full by cash at the end of the initial consultation.
Your first consultation will include taking a medical history, I will then use kinesiology to do some preliminary checks such as food sensitivities / parasites / candida, along with some tests for common deficiencies. This is very beneficial as we may be able to get you started on a temporary protocol straight away so you may benefit more quickly. Also in the case of candida or parasites, it would be good to get these remedied before embarking upon the plan that your hair test results will determine.
The second consultation will be after your results come in and include a full kinesiology session, a reassessment of anything found in your initial appointment, kinesiology to determine the correct supplements and dosages for anything picked up in your hair test, and we will then go through the hair test report together answering your questions.
IMPORTANT:
So I can match the results received to your order and payment, please let me know the name of the person being tested by filling in the relevant text box below (some people buy tests for others and it is difficult to match up!).
If you are returning for a re-test please provide your laboratory number. This can be found on the graph of your previous test results. If you are unable to provide your lab number for some reason, please contact me and I can look it up.

If you wish to purchase a Hair Mineral Analysis Test, please click the checkout button below!
How it Works:
Upon purchase you will be sent instructions, an envelope with a partially pre-filled form for you to complete, a small weighing scales for your sample, a further information form (to assist me in compiling your report), a small grip-seal bag for a separate strand of hair for remote testing and a stamped addressed envelope to send your test back to me. I will then send your results to the lab for analysis. The results are returned to me and once I have put my report together I will then send you your results, the lab reports and my report by post or email.
The whole process can take 2-3 weeks from when you send me your sample.
If you wish to book an in-person consultation, select your choice on the additional information form when returning your sample, and I will contact you to arrange an appointment once I receive your results from the lab.
Please Note: The return envelope will have a UK First Class stamp on it.
Please note this service is only available to the UK. Orders outside the UK will be refunded and refused. I apologise for this inconvenience which is due to restrictive terms by the laboratory. The only exception is for clients who travel to me for an in-person consultation, as the results will then be under the address of the Therapy Centre.
Test Information:
Your hair can actually reveal a lot about your inner health. My mineral hair analysis service offers a great way of checking your body's mineral levels and toxins from a simple analysis of a hair sample. Unlike blood testing, hair tests offer an overall picture of your health, taking an average over the last couple of months (the length of time to grow the length of hair sample) and are therefore not influenced by daily fluctuations as blood is. It is a clinically proven laboratory test, using a sample of hair sent to the Mineral Check laboratory.
Hair Analysis can help show up any hidden deficiencies before they cause problems. The results provide information that means a simple tweak in your diet or supplement regime can make a big difference to your overall health. Additionally, a hair analysis test will also show whether you have accumulated any toxic metals.
Measuring the mineral content of your hair gives you a wealth of information, and from mineral patterns can determine our metabolic status, adrenal and thyroid function among other tendencies. This gives you a unique perspective on your health that would otherwise be hidden, making this highly revealing test incredible value for money when you consider the amount sometimes spent on supplements in the long term that may not even be needed, or even doing some harm. It takes the guess-work away and helps you to focus on what is really needed.
Essential Minerals tested: Calcium, Magnesium, Sodium, Potassium, Phosphorous, Copper, Zinc, Iron, Manganese, Chromium, Selenium, Boron, Molybdenum, Cobalt, Sulphur
Toxic Elements tested: Antimony, Uranium, Arsenic, Beryllium, Mercury, Cadmium, Lead, Aluminium
Other elements tested: Germanium, Barium, Bismuth, Rubidium, Lithium, Nickel, Platinum, Thalium, Vanadium, Strontium, Tin, Tungsten, Titanium, Zirconium