Yoga & Me
I have been practising Hatha Yoga since 1997, not just physically but incorporating all the principles of Yoga into my daily routine.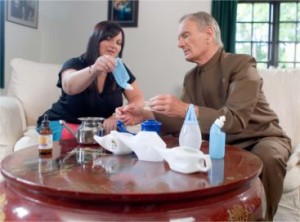 I qualified as a Yoga Teacher with the Bristish School of Yoga, and I have been honoured to have appeared on a DVD with Dr David Lewis, former TV-am psychologist, talking about and demonstrating Jala Neti (nasal washing) and Yogic Breathing (www.botau.com).
I run local classes by evening, and include all aspects of Yoga in my teaching. I teach my students how to incorporate Chakra balancing/activation into the postures and encourage everyone to have a strong link between Body, Mind & Spirit.
My classes are fun, gentle and relaxed. They may seem to be quite long but this is due to the relaxed nature of my teaching and I like to incorporate some stress-relief exercises such as laughter Yoga into the evening, giving a completely holistic experience.
All classes are suitable for beginners, and are also suited to intermediate level student who prefer a relaxed, gentle & spiritual class.
My 1-2-1 classes include an individually designed progressive Yoga programme.
If anyone has attended my classes, please leave feedback in the comments below! Thanks!
There is also feedback from my previous website at the menu above.